Welcome to this month's Bread & Wine Project recipe link up!! So happy to have you here! This link up is all about food, but more importantly all about pursuing community and true hospitality within our homes as women. I have a real passion for loving people around our dinner table, and this link up is a way for us to help equip each other with recipes and encouragement for us to love people even better around our tables.
This week my lovely co host is Jenna of Dearest Love. This lady is such a sweet heart, and has a big passion for cooking just like me. She is always posting yummy and simple recipes on her blog so I know you will all want to head over and check her out! Meet Jenna!
Hello! I'm Jenna, and I have a blog called Dearest Love. I am passionate about many things: The Lord, cooking, baking, teaching my sweet second graders, and spending time with my husband, Lamar. Cooking for friends and family is definitely one of my favorite things to do, and one of the best creative outlets for me. There's something so special and important about inviting friends into the home, sharing a meal with them, and discussing all things
life.
This week's prompt was- How do you slow down when it comes to the food you feed your family, and the time you spend with others in your home?
For me this has been heavy on my mind. I have been reading the book Notes from a Blue Bike by Tsh Oxenreider with my Influence Network small group, and have been blown away by it. The whole book is a push to live more slowly and intentionally despite the American culture to try to get as many things done as possible every single day. (read more of my thoughts on this from my post yesterday)
Here are some practical ways that I have been trying to be more intentional in the kitchen:
1. Use more whole foods. Often times we take the easy way out of cooking. We are tired, overwhelmed, and beat down from running the American rat race all day so we settle for processed foods out of cans, boxes, and microwavable containers rather than using whole foods like fresh seasonal veggies to feed our families at night. I am not turning into a crazy person but simply buying more veggies, spending a little more money on a less full grocery cart so that I can better feed my family, and be more creative with foods in season.
2. Make things from scratch. Don't get me wrong, I cannot do this every day...it just is impossible. But as I can I make things all the way from beginning to end myself. I have started a list of things outside of my comfort zone that I want to make, and plan to set goals every month to try to make these. This is just a way to slow me down...if I know that whatever chocolate cake I eat has to be made from scratch with high quality chocolate I will make it less, take more time to make it when I do, and enjoy it more when I eat it because it is special. Making things from scratch takes time, so this helps me slow down and makes the rich foods more of a treat for us.
3. Institute slow weekly rituals. I have begun to do this by making sourdough bread twice a week, making pizza dough, and homemade gnocchi, pasta sauce, pesto, and other things. I set aside time to put on some music, breathe deep, get my hands dirty and create once or twice a week. I think that baking, kneading dough, or stirring sauces allow me to think clearly, and remove all technological distractions so I am able to be fully present. This has been really great for my soul.
How do you slow down in the kitchen?
Today I am sharing a pretty simple, versatile recipe that can be tweaked to match seasonal fruits. I give you plum and fig tarts!
INGREDIENTS
1 frozen puff pastry, thawed
3 plums, washed, pitted, and sliced
8-12 figs, washed and sliced in half
DIRECTIONS
Preheat oven to 400 degrees.
Take puff pastry and roll out to about 1/4 inch thick. With a very sharp knife slice into small rectangles. Add water and egg in a small bowl, whisk to combine, brush pastries with egg wash. Arrange fruit on top of pastries and sprinkle generously with brown sugar. Place in oven for 15-20 minutes until golden. Allow to cool, and drizzle with honey or syrup.
The are so yummy, and really are simple, easy, and can be made with any fruit. Apples, pears...the list goes one. So get creative and try them out!
LINK UP RULES:
1. Follow your host and co host.
2. Link up your recipe, not your blog.
3. Comment on at least two other posts!
4. Link back to this page!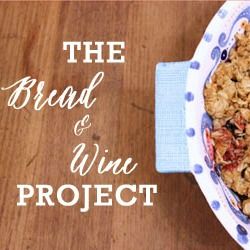 Thank you to each one of you that linked up today! You are all so wonderful and this community means the world to me! Happy hump day friends!