It is time again for The Bread & Wine Project! YAY! such a perfect link up for this month of 31 days of writing dedicated to my kitchen! This is a recipe link up that aims at fostering discussion about true hospitality and community around the table! So grab a recipe and link up and meet some new friends!
This week my co host is one familiar face around here, Madison of Wetherills Say I Do! Madison if for real such a great friend of mine in blogland (and we get to meet in real life next weekend!!!), and a total foodie like me. We are both contributor food authors over at My Cooking Spot, and love writing recipes and being creative in our kitchens! So meet Madison!
Today's prompt was: How do you balance convenience and trying to slow down in your kitchen?
I am so curious to hear from you all on this question. I struggle so much to strike a happy balance here. I find that I go in swings, one week I am all about slowing down, and using ingredients that force me to slow down (risotto, homemade biscuits, soups) but then the next week I am so burnt out that I am trying to finish cooking before I start (tacos, pizza, quesadillas). HELP! What do you do to slow down consistently? I want to find a happy medium, I think that fast meals are necessary sometimes, but I want to try to go against the grain more times than not!
One way I have found that helps me slow down is to try recipes that force slowing down...homemade yeast breads, yogurt, risotto...things that take hours to rise, set, or come together. So today I am sharing this delicious Greek yogurt recipe with you all! Get ready to be blown away...one because this is so simple, and two because it tastes divine. You will never go back to store bought yogurt if you try this (you really should just try!).
Ingredients:
1/2 cup regular yogurt (make sure it contains active cultures)
Half gallon PASTEURIZED whole milk (most milk is ultra pasteurized so make sure this is just pasteurized)
Crock-pot
Directions:
Set your crock-pot to high. Pour the half gallon of milk into a large saucepan. Heat over medium heat until milk is bubbly and frothy. Stirring frequently so the milk does not burn.
While milk is heating, fill your sink with water and ice to create an ice bath. Take milk from heat and set in water bath. Leave for 10 minutes. Once milk has cooled add 1/2 cup of yogurt to crock-pot, and whisk with one cup of cooled milk until smooth.
Pour in the rest of the milk, and whisk until smooth. Place the lid on the pot. Place the crock-pot bowl in the oven (with light on to create a warm environment). Leave for 10 hours. Place pot in the fridge for 5-6 hours to set.
To make the yogurt Greek (if you want regular yogurt stop here).
Line a strainer with a double layer of cheesecloth, papertowels, or coffee filters. Place over a large bowl. Pour yogurt into a strainer and allow to drain off liquid for 7-8 hours or until about 2 cups of liquid have drained.
makes 1 quart of yogurt. Keeps for 1-2 weeks in the fridge!
This delicious, silky yogurt is wonderful with honey, granola, use it in cooking or to make a yummy herbed yogurt sauce to serve alongside roasted potatoes! YUM!! It also would be great with some vanilla extract stirred in (or even a vanilla bean scrapped in!) I will be sharing how to make your own vanilla extract next week so stay tuned for that!
I cannot wait to see all of your recipes and hear from each of you! Thanks for linking up with us!
LINK UP RULES:
1. Follow your host and co host.
2. Link up your recipe, not your blog.
3. Comment on at least two other posts!
4. Link back to this page!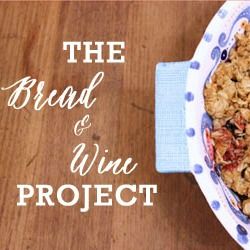 Thank you to each one of you that linked up today! You are all so wonderful and this community means the world to me! Happy hump day friends!